WINE INDUSTRY OVERVIEW
The wine industry is compartmentalized into three main segments:
1)PRODUCTION 2)LOGISTICS 3)MARKETING/SALES
Each segment is very complex in itself so incorporating all three into one business enterprise is basically a huge error and diminishes focus on core competency. Integrating all three into one effective logistical supply chain is our ultimate goal.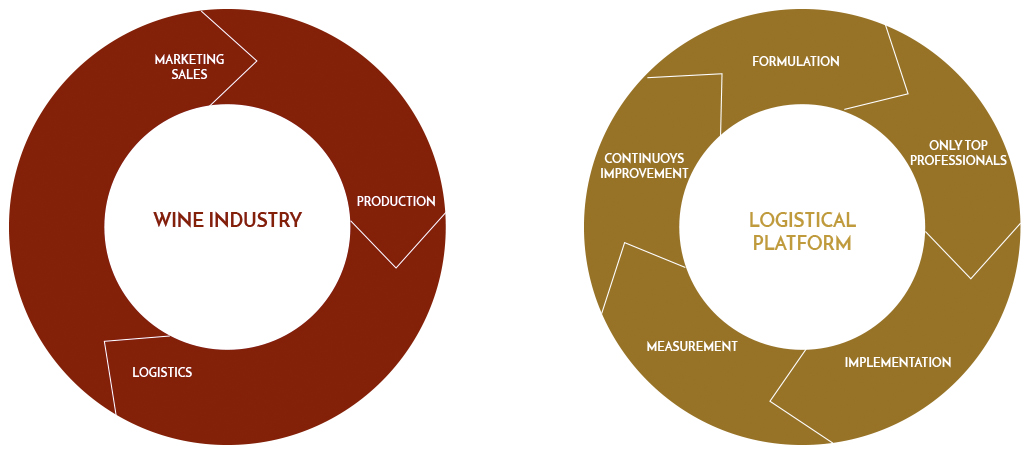 LOGISTICAL SERVICE SPECIALIZATION
Global Wine Logistics focuses on the complex world of global logistical services for the wine industry. Our expertise in global logistics allows wineries to focus on producing great wines and wine distributors to focus on the core elements of marketing and sales.  The advantages are many: attention to the customer, streamlined transaction processing, more effective compliance processes, capacity optimization, higher utilization of resources, standardization, etc. We offer a collaborative partnership to our customers based on first formulating a mutually beneficial agreement, then implementing a strategic plan and finally measuring the process so results are attained through continuous improvement.
In today's complex business world everything is interconnected and there is a total reliance on expertise for survival of any business, thus more than ever the need to focus on core competency, or in other words what each of us does best. However, maximum potential for the overall industry is created not by one specialist but rather by the combination of overall industry expertise and that can only be accomplished through strategic alliances.